Solar Sprout
Architecture Studio 5
2019
There are over 11,000 vacant lots in the 15 square mile area occupied by the Englewood, West Englewood, Washington Park, and Woodlawn neighborhoods. Many of these lots are owned by the city of Chicago, and compromise over 800 acres of open land. Solar Sprout focuses on an architectural urbanism that imagines new neighborhood forms catalyzed by an existing low-density condition. 
The concentrated open land along the existing transit network become lines of division; one neighborhood divided into three separate parts. Solar Sprout replants the lost connection by using the existing transit network and growing from it. The education center and solar plant are centralized around the Green Line Train, while the solar nodes are organized along the bus routes. By doing so, both of the networks work together to reconnect the three distinct residential areas to each other and to the city. 


The Transit Network, made up of bus routes and the Green Line train, acts as a network that divides yet simultaneously connects the neighborhood to the city. It divides the neighborhood into three distinct residential areas, framing them with empty lots. As it stands, the Transit Network does not take advantage of the potential benefits of access, circulation, and connectivity.

The Solar Sprout Network is composed of different nodes. Each centralizes resources aimed towards a particular group of people. Depending on where the node is placed in proximity to the Solar Plant and Education Center, dictates who lives in the node. They connect through the existing Transit Network as well as through the greenhouses located in each of the housing units.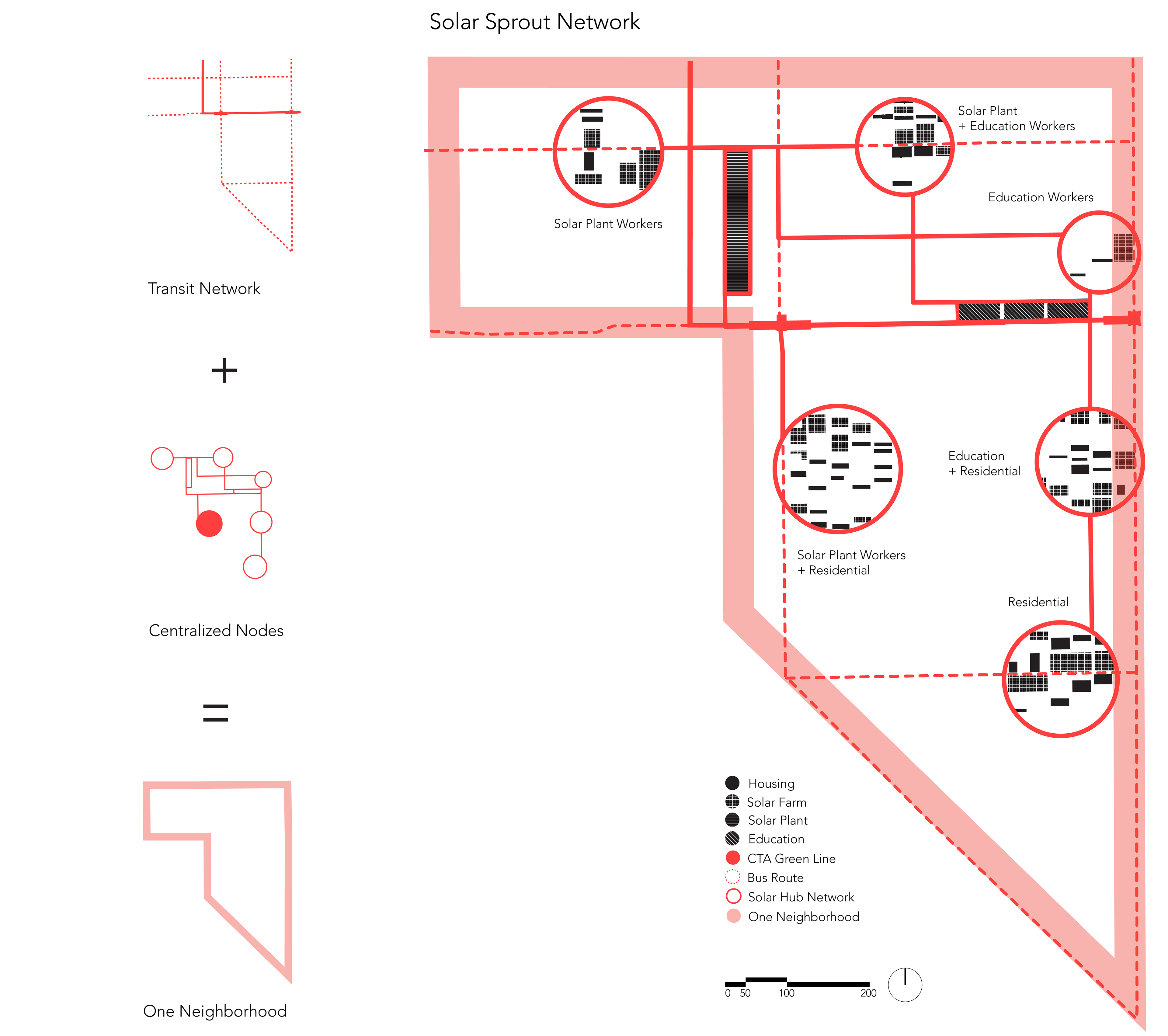 The formal concept is modularity. The standard lot size of 25' x 125' is the starting point because it is the condition that all of the programs have in common. Stacking is necessary in order to adjust the amount of space needed for each program. The roof is carved at 42 degrees to benefit the range of angles the sun hits in different seasons, from summer to winter. This formal cocept strategy is applied to the Infill Housing Propsal as well as the Solar Farm and Education Centers.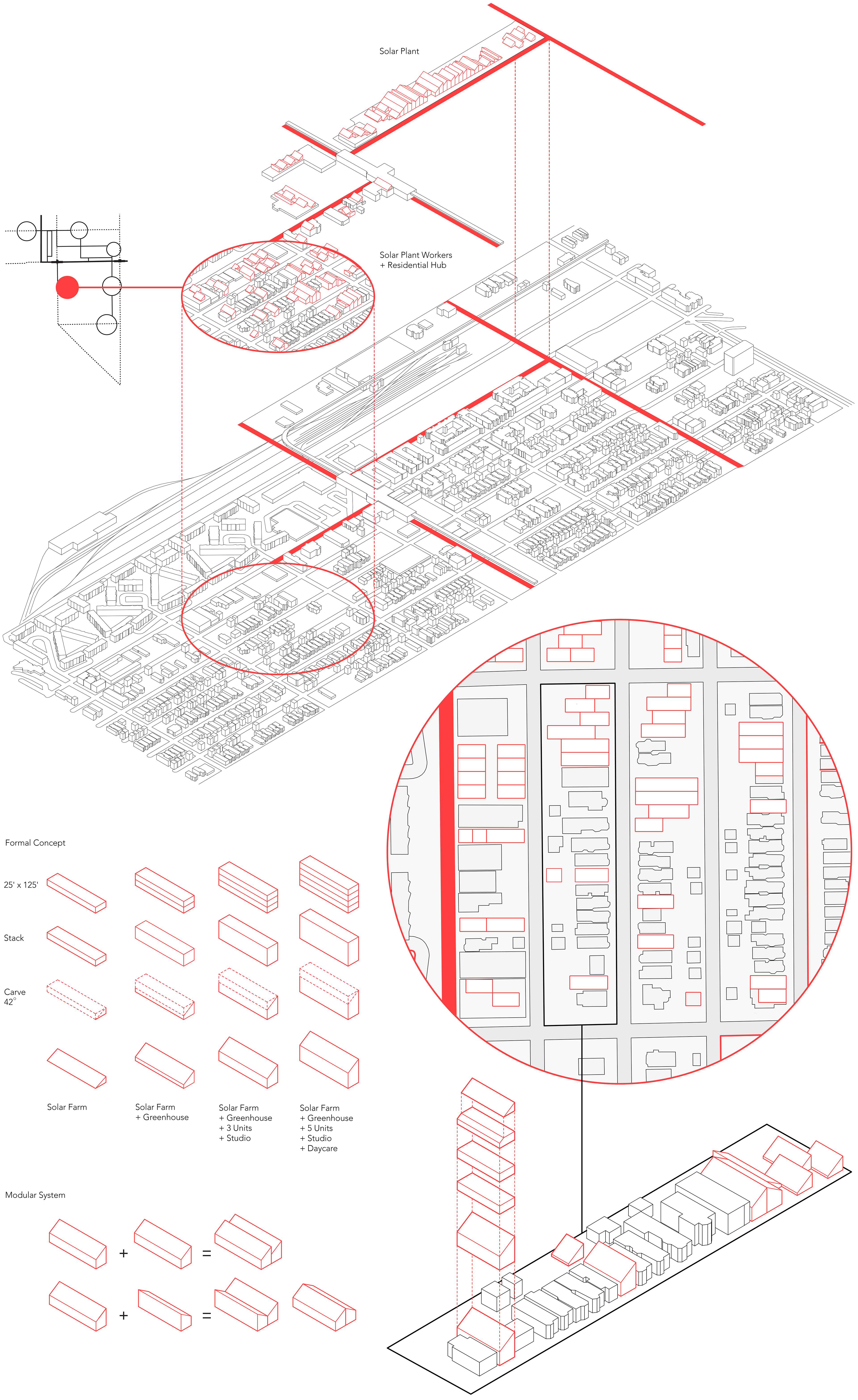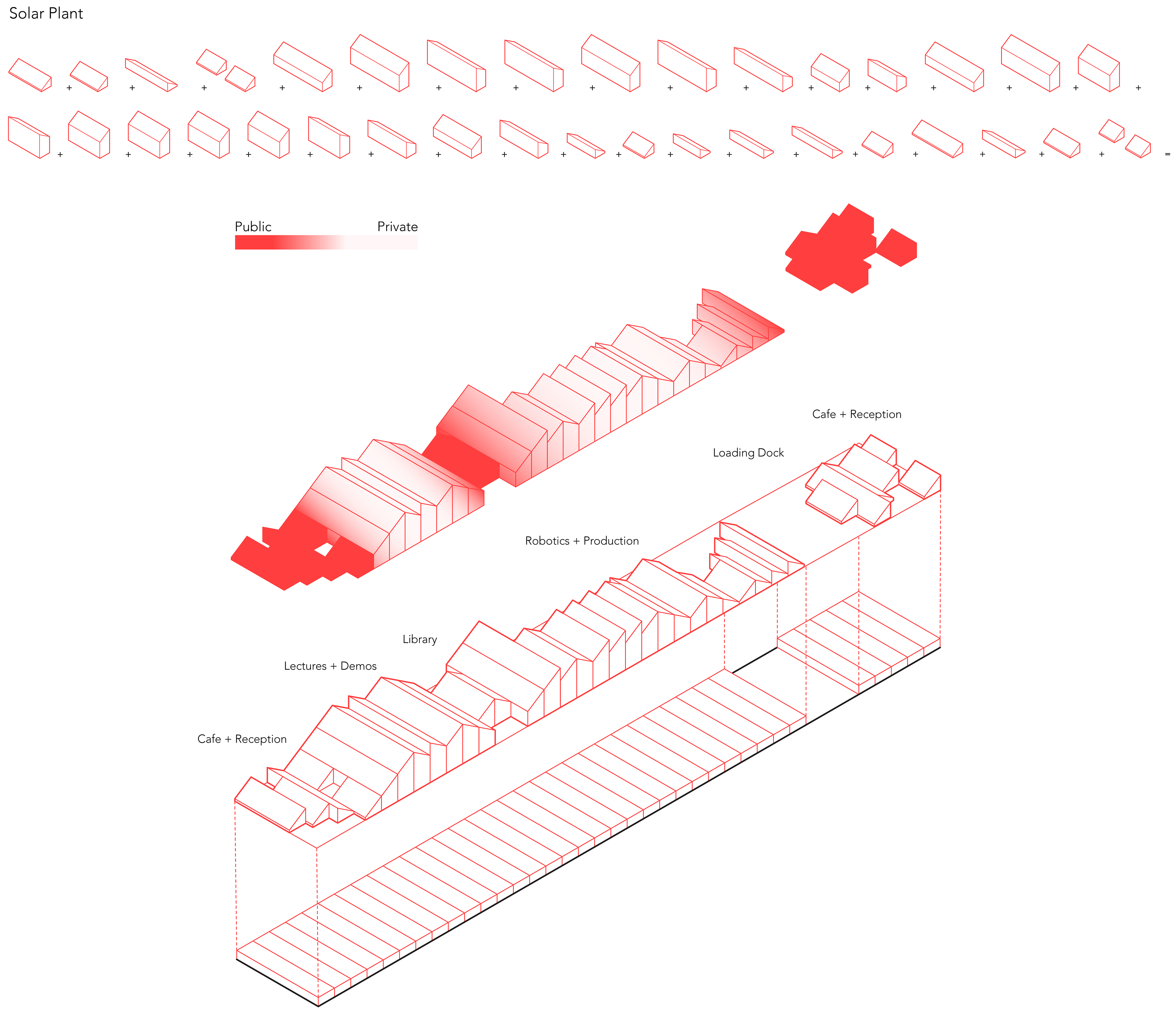 The residential node has a daycare that benefits not only those who live here and work at the solar plant, but the community as a whole. Let's sprout together!